Owners direct lodge rental in Guadeloupe – La Chambre de l'Écrivain in Pointe Noire invites you to meditation. In close contact with nature, the awakening senses are caught up by the magic of the place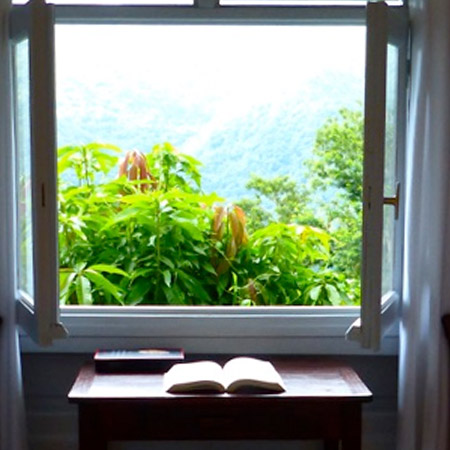 An enchantment by nature in the heart of the rainforest
La Chambre de l'Ecrivain

La Chambre de l'Ecrivain, Guadeloupe cottage rental, is designed for one or two people. Its location in the heart of the Guadeloupe forest gives it a charm that nature lovers will be able to soak up.

Very comfortable and simple, the cottage offers a bedroom with a double bed, a mini kitchenette on the covered terrace, a dining table and a bathroom.

Immerse yourself in the middle of the forest, a stone's throw from the waterfall of Acomat for a holiday or a nature getaway!
Pictures of the lodge in Guadeloupe

Lit double location de gite en Guadeloupe
Mini coin cuisine
Salle d'eau
Terrasse couverte
Vue sur la forêt tropicale
Table à manger
Owners direct lodge rental in Guadeloupe – La Chambre de l'Ecrivain – Detail of the equipments

A lodge rental for 2 people with bathroom and outdoor shower
A terrace that invites its guests to reflection and contemplation in the heart of the tropical forest of Basse-Terre Guadeloupe
All the amenities of a gite rental trend with new and functional equipment.
Air conditioner,
Net
Coffee maker
Electric kettle
hair dryer,
Evening meal service delivered to your home, on order,
Wireless
Fridge
Microwave
Contact us to place a reservation